Top emitters meet in Paris, worries on UN overlap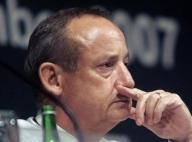 OSLO (Reuters) - The world's top greenhouse gas emitters meet in Paris this week to work out ways to slow global warming with uncertainty about whether the U.S.-backed talks will help or hinder plans for a new U.N. climate treaty.
Washington says the April 17-18 meeting, with a workshop on sectoral industrial greenhouse targets on Wednesday, is a step towards agreement by the end of 2008 on curbs by countries that emit 80 percent of the world's greenhouse gases.
But many nations are skeptical about President George W. Bush's late conversion to a need for more climate action since the United States is isolated among rich nations in opposing caps on emissions under the U.N.'s existing Kyoto Protocol.
"I still think it's helpful," said Yvo de Boer, the head of the U.N. Climate Change Secretariat, of the U.S. track. Paris will be the third meeting since Bush sought talks in 2007 among major emitters such as China, India and the European Union.
But there are risks of overlaps between the U.S.-led talks and separate U.N. negotiations among all countries meant to end in 2009 with a new global warming treaty to avert ever more droughts, floods, heatwaves and rising sea levels.
De Boer said he sensed that some nations were "a little concerned ... that this (U.S.-led) process doesn't prejudge the outcome" of the wider U.N. negotiations.
"At the same time there is a fairly strong common feeling that a strong statement from leaders (of major economies) will help" the U.N. talks, he told Reuters. "The challenge is: how do you do one without getting into difficulties for the other?"
He also said it was important for countries to set goals such as 2020 for cuts in greenhouse gases rather than long-term 2050 goals that were too far off to affect current politicians.
SUCCESSOR
Bush has said the U.S. track aims to get big economies lined up to support the U.N. process, even though a U.N. treaty will be agreed after he steps down in January 2009.
Other nations are wary since Republican presidential candidate John McCain and Democratic hopefuls Barack Obama and Hillary Clinton have all promised tougher goals than Bush for capping emissions, mainly from burning fossil fuels.
Bush has long favored voluntary climate goals rather than Kyoto-style caps which he views as a threat to U.S. jobs and unfair since developing nations have no commitments.
The Paris meeting will group the United States, France, Germany, Italy, Britain, Japan, China, Canada, India, Brazil, South Korea, Mexico, Russia, Australia, Indonesia and South Africa. The European Commission, current European Union president Slovenia and the United Nations will also attend.
Some countries will send environment ministers, others deputy ministers or senior officials.
The United States said that the Paris meeting is a step towards a declaration by leaders of major economies in coming months about climate change, perhaps on the sidelines of a Group of Eight summit in Japan, or later this year.
Some experts say the world has become more less skeptical of the U.S. talks as a complement to the U.N. negotiations launched in Bali, Indonesia, in December.
"It's good to have it right now. We need these parallel discussions in order to stick to the timetable that was set in Bali which is next to impossible," said Susanne Droege of the German Institute for International and Security Affairs.