More executives think CEO pay is too high: study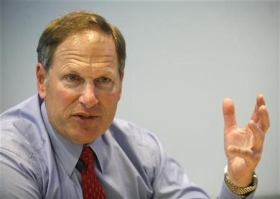 By Chelsea Emery
NEW YORK (Reuters) - In another sign of growing demand for increased oversight of CEO compensation, more executives are saying the heads of their companies are paid too much, according to a global survey released on Tuesday.
As outrage grows against what many perceive as exorbitant pay packages for underperforming chief executives, top employees at the companies are also airing their dismay.
Thirty-four percent of respondents to the survey by executive recruiter Korn/Ferry International <KFY.N> expressed concern about their CEOs' compensation. That compares with 21 percent a year ago.
"You want to see someone get awarded for performance, not for longevity," said Clover Capital Management fund manager Matthew Kaufler, who considers executive pay packages before buying a company's shares. "Ideally you want to see aggressive but reasonable thresholds that need to be met."
Four out of five executives said shareholders should have some say on pay, and 55 percent said their CEOs' compensation did not reflect or was only "somewhat" reflective of the companies' results.
"The tumultuous economic environment highlights the challenges with getting pay for performance right," Russell Miller, managing director of Korn/Ferry's Executive Compensation Advisors group, said in a statement. "The business community continues to focus on aligning pay and performance, and companies are having mixed success against this objective."
There are some signs, however, that companies are becoming better at linking CEO pay with their performance and growth.
While the median compensation for U.S. large-company chief executives who had been in their jobs at least two years increased 1.3 percent last year to $8.8 million, the rate of growth has slowed, according to a report from Equilar, an executive compensation research firm.
Indeed, the 2007 pay package for conglomerate Honeywell International Inc <HON.N> CEO David Cote slipped 2 percent from the year before, to $19.6 million, according to Equilar data.
"Pay packages reflect the turbulent situation right now, in that the bonuses are down across the board," said Equilar analyst Alexander Cwirko-Godycki.
Korn/Ferry in March surveyed executives from a wide variety of industries in about 50 countries. The number of respondents was not immediately available.
(Reporting by Chelsea Emery; Editing by Lisa Von Ahn)