Food can pass resistant bacteria to people: EU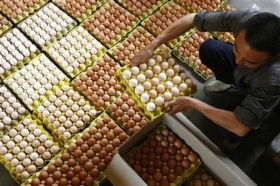 MILAN (Reuters) - The use of antibiotics and other anti-microbial agents throughout the food chain contributes to the growth of resistant bacteria which can be passed on to humans through food, EU's food agency said on Thursday.
The resistance of bacteria has become a growing concern as anti-microbials become less effective in fighting infections, the European Food Safety Authority (EFSA) said in a statement.
This has coincided with a rise in bacterial resistance to anti-microbial agents in animals, the EFSA said, citing a draft opinion paper by one of its expert panels which was looking into causes of the growing and diverse range of resistant bacteria and bacteria-borne resistant genes.
The EFSA said hygiene controls should be tightened at every stage of the food chain, from veterinary medicine to food processing and preparation, to prevent the development and spread of antimicrobial resistance.
The main foods carrying antimicrobial resistant bacteria were poultry meat, eggs, pork or beef as well as fresh salads, which can be contaminated during preparation, handling and processing, it said.
The panel found bacteria could be passed directly to people from contaminated food of animal origin carrying resistant bacteria which could colonize or infect people after ingestion.
Bacteria could also be passed to humans by the consumption of fresh produce from land irrigated with water contaminated by slurry or sewage. Food of animal and non-animal origin could also be contaminated during handling and preparation.
The Parma-based EFSA has called for more scientific information on the link between the use of anti-microbial agents in the food chain and transmission of the resistant bacteria to humans and runs consultations on the draft opinion until May 27.
(Reporting by Svetlana Kovalyova; editing by Chris Johnson)