Oil must stay high if world to have enough supply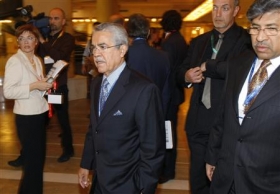 By Peg Mackey and Alex Lawler
ROME (Reuters) - Energy producers cannot halt a rally that has driven oil to nearly $120 a barrel and the world might have to live with even higher prices if it wants supplies for the future, exporters said on Tuesday.
Three days of talks in Rome between producers and their customers drew broad agreement a weak dollar has pushed oil prices higher and that the cost of extracting more from the ground has soared.
One thing the 60 or so energy ministers and dozens of industry executives struggled to agree was that the price, which hit a record of $119.74 a barrel on Tuesday, was too high.
"The oil market is in a state of fear, if not panic," said Shokri Ghanem, head of Libya's National Oil Corporation, but he also said expensive oil was necessary.
"Prices will have to stay high in the long term to encourage exploration and production."
Producers and consumers alike were worried, but for different reasons. Producers were nervous about falling demand and consumers dreaded economic collapse.
"Oil prices are clearly too high. We are not happy with the prices or the direction they're going in," said Jeffrey Kupfer, acting deputy secretary of energy for the United States, the world's biggest energy consumer.
The International Monetary Fund has predicted the U.S. economy would enter recession this year and some fear high prices could cause global economic damage.
"Definitely it will have some negative impact on economic growth -- that's for sure," said Nobuo Tanaka, executive director of the International Energy Agency, which represents consumer nations.
AGREE ON COST, NOT PRICE
When he arrived in Rome at the weekend, Tanaka said he wanted the International Energy Forum (IEF) to reach agreement the price was too high.
A closing statement said ministers had expressed concern over "the current level of oil prices." An earlier draft had said "the current high level of oil prices."
"The forum noted that oil prices should be at levels that are acceptable to producers and consumers to ensure global economic growth, particularly in developing countries."
Consensus was more forthcoming about the impact of labor shortages in the oil industry and that a rally across the commodities complex has driven up the cost of new production.
"There's definitely cost inflation. On that, there is a certain agreement, but what level is another question, but everybody is saying there's cost inflation. That is one reason for the high price," said Tanaka.
If rising costs are one factor behind higher oil prices, the most topical issue is the weak dollar, which has encouraged investors to flock to some commodities as an inflation hedge.
Iraqi Oil Minister Hussain al-Shahristani said the oil price was not as high as it seemed because it is measured in the U.S. dollar, which has hit record lows against other currencies.
"It's not really so high that it's beyond the capacity of most countries to cope with it," he said.
Producer countries need their revenues, mostly in dollars, to be high enough to finance investment in infrastructure.
Ali al-Naimi, oil minister of leading exporter Saudi Arabia, has repeatedly said the world has enough oil in the near term.
For the future, he said the world's reserves were adequate, but needed investment.
"At its heart, this is not an energy resource issue, it is primarily an investment issue," Naimi said in a speech.
(Additional reporting by Simon Webb, Svetlana Kovalyova and Barbara Lewis)