Inflation, rate fears push Wall St to lower close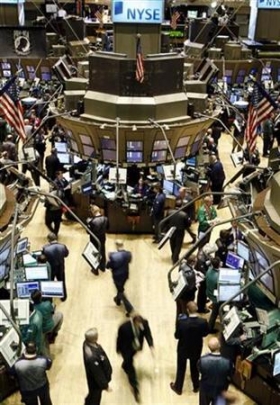 NEW YORK (Reuters) - U.S. stocks ended lower on Wednesday, with all three major indexes down more than 1 percent, on concerns about inflation and higher interest rates as oil jumped to a record above $123 a barrel.
Based on the latest available data, the Dow Jones industrial average fell 206.48 points, or 1.59 percent, to end unofficially at 12,814.35. The Standard & Poor's 500 Index was down 25.69 points, or 1.81 percent, to finish unofficially at 1,392.57. The Nasdaq Composite Index was down 44.82 points, or 1.80 percent, to close unofficially at 2,438.49.
(Reporting by Caroline Valetkevitch; Editing by Jan Paschal)