Airline industry aims for 'carbon neutral growth'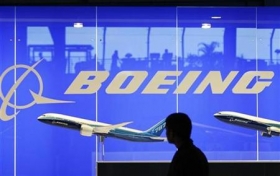 By Laura MacInnis
GENEVA (Reuters) - Aircraft makers, airlines, airports and air traffic controllers pledged on Tuesday to work towards "carbon-neutral growth" and reduce their industry's contribution to global warming.
The declaration committed commercial players including Embraer, Bombardier, Boeing and Airbus to support cleaner fuels, improve fuel efficiency, better manage air routes, and work "to achieve greenhouse gas reductions wherever they are cost-effective."
"We are committed to a pathway to carbon-neutral growth and aspire to a carbon-free future," the signatories said.
They also urged governments to develop a global emissions trading scheme for the aviation sector.
Willie Walsh, chief executive of British Airways, said the stakes were high for a European Union proposal to make all airlines flying into and out of the bloc buy pollution permits, and to gradually buy emissions certificates at auction.
"It is hard to exaggerate the importance of emissions trading," Walsh told hundreds of industry representatives at a conference near Geneva airport.
He said that an emissions trading scheme, in line with what Brussels has proposed, would give airlines room to grow their businesses while not fanning climate change. This was preferable to taxes that can be too blunt an instrument, Walsh said.
"The goal must be to reduce global emissions at the least cost to the global economy. I believe carbon trading can achieve this," he said.
The U.N. Intergovernmental Panel on Climate Change said in a report last year that the aviation industry made up 3 percent of mankind's total contribution to global warming in 2005. That proportion is expected to rise to 5 percent by 2050.
Airbus CEO Tom Enders said that new technology and other innovations, particularly in fuel, were the key to making air travel more sustainable over the long term.
"If our growth is restricted, so are the benefits. So are the benefits aviation can bring to the world," Enders said, noting Airbus was experimenting with fuel cells as a way to decrease overall emissions.
Boeing Commercial Airplanes CEO Scott Carson said his firm was looking at algae-based products as an alternative to biofuels that are part of the food system. Prices for dietary staples including corn and wheat have shot up in past months, partly due to demands on crops for use as alternatives to oil and natural gas.
Philippe Rochat, executive director of the Air Transport Action Group, said the climate change declaration should help draw the industry together around a common goal, as has already been done in safety standards and e-ticketing initiatives.
"We are devoting the same energy, investment and sheer determination to ensure the industry has a sustainable future," he said.
(Editing by David Cowell)