Google ends eco-search engine support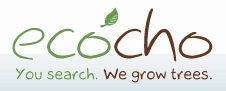 Sydney-based Ecocho founder Tim Macdonald had an idea; build a search engine based on Google and Yahoo technology and use the ad revenue to plant two trees for every 1,000 searches, offsetting tons of carbon dioxide.
However, the practice of "compensating users for viewing ads or performing searches, or promise compensation to a third party for such behavior" is a violation of Google AdSense policy and Google decided to pull support of the site, on Earth Day no less. Macdonald claims Google is not enforcing its rules to other "green" search engines such as Blackle, though Blackle is not making the same claims.
Pablo has addressed the effectiveness of Blackle in the past. And while stopping support for Ecocho on Earth Day may seem heartless, rules are rules. And besides, Google is addressing energy and carbon issues on a much larger scale. Google claims their data centers use half the energy of a similarly sized data center and that they are conducting energy audits and investing in carbon offsets. They made a big splash in November when they announced an R&D team was working to produce 1 gigawatt of renewable energy at a price cheaper than coal. They are giving grants to renewable energy companies like eSolar Inc. and Makani Power Inc. to meet this goal. Killing off smaller, seemingly well-intentioned search engines may make Google look monolithic and draconian, but Google is able to fund sustainability initiatives in ways Ecocho would never be able to. It's not really about who is greener anyway; it all boils down to an untimely and unfortunate violation of policy.