Australia splashes A$13 bln to secure water supplies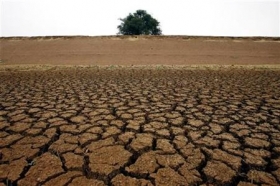 By James Grubel
CANBERRA (Reuters) - The Australian government outlined plans to secure water supplies and repair ailing rivers on Tuesday, to protect the nation's drought-hit food bowl, which produces about A$22 billion ($21 billion) worth of food exports.
The A$13 billion 10-year water plan includes A$3 billion to buy river water back from irrigators in the Murray-Darling River basin, which produces 41 percent of Australia's agriculture, as well as money to secure water for the nation's thirsty cities.
"Water shortages are a serious threat to our economy and way of life," Climate Change Minister Penny Wong said on Tuesday.
"We can, and we must, make better use of our available water resources," Wong said.
Australia, the driest inhabited continent on Earth, has been suffering more than seven years of drought, with water inflows into the nation's rivers at record lows and farmers facing tough restrictions on irrigation.
The drought has also had an impact on cities, which are home to bulk of Australia's 21 million people, with strict restrictions on watering gardens and most cities banning people from using a hose to wash their cars.
In March, authorities said inflows into Australia's largest river, the Murray, doubled over the past year, but were still only about 25 percent of the long-term average, with the lakes near the river's mouth described as in grave condition.
Without major winter rains, irrigators face the possibility of receiving no water allocations as river managers keep water for environmental flows and to secure drinking water for towns and cities along the river system.
Farmers along the Murray-Darling basin use the river for dairy farming and to water crops such as cotton, rice, corn, grapes and other fruit and vegetables, drawing the water from the river by using irrigation.
The government wants to buy back their water rights so more water will flow along the river, helping to combat salinity, especially in the vast lakes near the Murray mouth in the South Australia state, where the river only meets the sea with the help of constant dredging.
The Murray-Darling river catchment covers 15 percent of Australia, an area the size of France and Spain combined, with the Murray River also providing about half the drinking water for the southern city Adelaide's 1 million people.
Wong said under the nation government's plan, A$3 billion would be spent to buy water from irrigators to try to nurse the Murray River back to health, while almost A$6 billion will be spent on projects to help make irrigation more sustainable.
She said the May 13 national budget would also include A$1 billion for desalination and recycling projects to help secure long-term water supplies in the nation's cities.
Australia's main farmer's group the National Farmers' Federation said it supported the water buyback, as long as it was only from willing sellers.
"We believe the market should operate, people should be able to make their own decisions and water should not be compulsorily acquired," said Brett Heffernan from the Farmers' Federation.
Australia's wheat farmers do not rely on irrigation water. A private forecast suggests a record winter wheat crop of 27 million tonnes, based on early seasonal rainfall, more than double last year's drought-hit 13 million tonnes.
($1=A$1.07)
(Editing by Valerie Lee)