Thailand to release 2.1 mln T rice for domestic mkt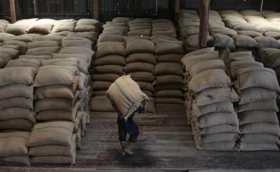 BANGKOK (Reuters) - Thailand said on Tuesday it will sell some of its government rice stockpiles into the domestic market for the first time in nearly 1- years as the world's top exporter seeks to cool prices that have nearly trebled this year.
Thailand will gradually release 2.1 million tonnes of stockpiled rice, with the first lot sold in a couple of weeks, a Commerce Ministry official said, in a move that knocked domestic cash prices 4 percent lower and may help ease a growing global panic over surging food costs and supply security.
Benchmark Thai rice prices have surged to above $1,000 a tonne this year after India and Vietnam, the world's No.2 and 3 exporters, imposed curbs on shipments to ensure their own supplies and tame inflation. Thailand has repeatedly said it will not follow suit, despite some speculation that it might do so.
"We will gradually sell it domestically," Yanyong Puangrach, head of the Ministry's Department of Internal Trade told reporters after the plan was approved at a cabinet meeting.
The price of domestic Thai 5 percent percent broken grade white rice fell 1,000 baht to 25,000 baht ($789) per tonne immediately after the government announcement, traders said.
The last stockpile release was in November 2006, when 200,000 tonnes was released to meet rising demand from overseas buyers.
The government will replenish its stockpile by purchasing paddy harvested in May and June at market prices, he said.
"Don't worry, we'll have ample stock for domestic consumption as we will buy back as much as what we have sold," he said.
The government traditionally keeps a stockpile of rice as a buffer to guard against crop failures, and as a mechanism to ensure a stable price for consumers and exporters.
Thailand expects to produce about 4.2 million tonnes of milled rice from a smaller second crop due to be harvested by May.
Around 1.6 million tonnes of additional paddy, equivalent to 1 million tonnes of milled rice, is due to hit the market in June.
($1=31.63 baht)
(Reporting by Trisanat Kongkhunthian; Editing by Darren Schuettler and Ben Tan)