Nissan's Ghosn sees U.S. market stabilizing in 2009-10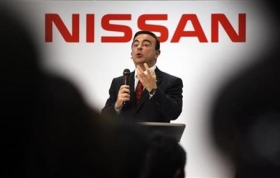 CASCAIS, Portugal (Reuters) - Nissan Motor Co <7201.T> Chief Executive Carlos Ghosn said on Thursday that the U.S. auto market could stabilize in 2009-2010, but the industry would rely mostly on emerging markets to expand.
"Japan at best will see stagnation, West Europe at best stagnation, the U.S. is slumping in 2008 and at best in 2009-2010, we will see stabilization," he told a news conference.
"The growth will come from emerging markets."
Ghosn, also head of Nissan's majority shareholder Renault SA <RENA.PA>, repeated that the two companies remained open to expanding their alliance to a third member but that they were in no rush.
"An alliance in North America would make sense," he said, reiterating a stance that first emerged when billionaire investor Kirk Kerkorian suggested a three-way union to include troubled General Motors Corp <GM.N> two years ago.
More recently, the questions have turned to whether Nissan could expand its ties with Chrysler LLC <CBS.UL> after they signed a deal this month to supply each other with vehicles.
"Our alliance (Nissan-Renault) is already 7 million vehicles a year, which is a good size. There is no urgency. I am not hunting. It would be an opportunity," Ghosn said.
"The thing with Chrysler is an OEM (original equipment manufacturing) deal. Of OEM deals, there will be more."
Nissan, Japan's third-biggest automaker, is due to announce on May 13 a new midterm business plan spanning the next five years.
Ghosn declined to give any details, but indicated that Nissan was ready to enter the next phase of growth after spending the last decade fixing its finances and making up for lost time as healthy rivals kept on with technological advancements.
"The period of revival, of re-engineering, of retooling is finished. The company today is ready to compete on (an) equal footing with any company, in particular on technology."
Ghosn said the alliance was in talks with "a Gulf state" about introducing its electric car in the country, after signing similar deals with Israel and Denmark.
(Reporting by Marcel Michelson; Writing by Chang-Ran Kim; Editing by Hugh Lawson)