Death of 500 ducks in oil sands tragic: Imperial CEO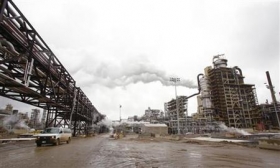 By Scott Haggett
CALGARY, Alberta (Reuters) - The death of about 500 ducks that landed in a pond of oily, toxic sludge operated by Canada's biggest oil sands producer was tragic, the chief executive of Imperial Oil Ltd said on Thursday.
Imperial has a 25 percent stake in oil sand producer Syncrude Canada Ltd, owner of the tailings pond in northern Alberta, where the ducks died earlier this week because a warning system meant to keep them off wasn't operating.
"Without question, I think it was not only an unfortunate event but a really tragic one," Imperial CEO Bruce March told reporters following the company's annual meeting.
"I'm deeply disappointed and I know the Syncrude leadership team shares that disappointment."
Migrating waterfowl are supposed to be kept from the poisonous waste-water ponds at the mines, where massive shovels pull tons of oil-laden sand from the ground, by sound-cannons that simulate gunfire. But a winter storm had delayed deployment of the system, a Syncrude spokesman said.
The fate of the ducks has focused more attention on the environmental costs of exploiting the oil sands, where more than C$100 billion is being poured into projects to tap the biggest storehouse of oil outside the Middle East.
Production from the region, 380 km (235 miles) northeast of Edmonton, Alberta, is expected to nearly triple to 3 million barrels a day by 2015.
Environmental groups have already raised concerns about carbon-dioxide emissions, destruction of the boreal forest that is stripped away to get at the oil deposits, and the potential for tailing ponds to contaminate local rivers.
Greenpeace said the ducks' deaths showed the government's ability to monitor environmental safeguards on the region's oil producers were inadequate because regulators were tipped to the incident by an anonymous caller.
Others have also branded the incident a tragedy, including Prime Minister Stephen Harper and Alberta's environment minister.
A regional aboriginal group, the Chipewyan Prairie First Nation, called for a federal inquiry on Thursday on how to protect migratory birds, fish and other species at risk in the oil sands area.
Imperial's March said Syncrude would change its processes and procedures to prevent a repeat of the incident.
"There are really no excuses for what happened," March said. "It shouldn't have happened and we're deeply upset."
(Reporting by Scott Haggett; editing by Rob Wilson)