Ford to offer union buyouts at two U.S. plants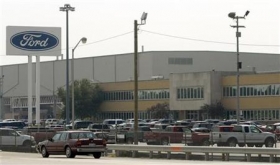 DETROIT (Reuters) - Ford Motor Co <F.N> will offer buyouts to United Auto Workers union-represented hourly employees at plants in Chicago and Louisville, Kentucky, to try to trim its ranks, the company said on Friday.
Ford, which has been cutting production capacity to match declining market share in North America, said in late April that about 4,200 UAW workers had accepted recent buyouts it offered to all of its UAW-represented employees.
The carmaker did not say how many workers it had hoped would take the buyouts, but did say it would offer more buyouts targeted by plant or vehicles from that point. Analysts have said Ford was looking to buy out about 8,000 workers.
Ford has nearly 2,200 hourly workers at its Chicago plant that builds the Taurus and Mercury Sable sedans and another 2,100 workers at the Louisville plant where it builds the Explorer and Mercury Mountaineer SUVs.
The carmaker previously announced plans to trim production at both plants and has aimed to return to profitability
in 2009.
Ford, which posted losses of more than $15 billion over the past two years, in April reported a first quarter profit in part due to a sharply narrower loss in its main North American home market.
Ford must still cope with a U.S. economic downturn that has depressed sales as well as rising gas prices that have accelerated a shift toward cars instead of large trucks that supported Ford profits in recent years.
Ford sales had fallen about 10 percent in the United States through the first four months of 2008, though sales of the Focus and Fusion cars and the Edge crossover have been relatively strong. Sales of its F-series pickups were down 15.5 percent and Explorer SUV sales were down 25 percent.
(Reporting by David Bailey, Editing by Toni Reinhold)