Cubs a ray of hope in India's fight to save tigers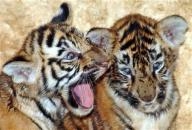 Fourteen tiger cubs have been spotted in a leading Indian sanctuary, a rare piece of good news in the country's fight to protect its dwindling population of big cats from poachers and habitat destruction.
The cubs have been sighted regularly over the past few weeks in Ranthambore National Park in western Rajasthan, R.N. Mehrotra, the state's chief wildlife warden, told Reuters on Tuesday.
"The cubs belong to six or seven different mothers and they are all around three-and-a-half months old," Mehrotra said.
"Two more tigresses are pregnant and we are constantly monitoring them to ensure they stay safe," he said by telephone.
Wildlife experts welcomed the news and said they also have information about sightings of tiger cubs in four other reserves.
"Ranthambore is back to its heyday of the 1980s, and the secret of success is in better management and a lot of protection, which was not there earlier," said Belinda Wright of the Wildlife Protection Society of India (WPSI).
India is believed to have half the world's surviving tigers, but their numbers are thought to have dived to around 1,500, half of the previous estimate announced in 2002, wildlife officials said in February this year.
"It is fantastic news and new cubs means the habitat is good and conditions ideal in Ranthambore for breeding," said Sujoy Banerjee from WWF-India's Species Conservation Program.
But experts cautioned that the threat of being poached had not gone away, and tigers remained vulnerable both inside and outside parks.
Ranthambore reported just 32 tigers in the latest census made public earlier this year, down from 46 in 2004.
The losses were largely blamed on poachers feeding a thriving market for tiger body parts among followers of Chinese medicine.
Trade in dead tigers is illegal, but a single one can fetch up to $50,000 on the international black market. Bones are worth about $400 a kilogram, a penis almost $850, a tooth $120 and a claw $10, tiger experts say.
The clearing of large areas of forest land for homes and cultivation has added to the decline.
It was the revelation in 2005 that all 22 tigers thought to live in the Sariska Tiger Reserve, also in Rajasthan, had disappeared that prompted the setting up of a new tiger taskforce, which includes wildlife experts and community leaders.
Since then, park authorities have stepped up security and monitoring of the cats, and have curbed the movement of villagers in key reserves.
"We at least know that tigers don't breed when they are disturbed," Wright of the WPSI said. "A lot of hard work has gone into Ranthambore and the results are just starting to show now."