Patients prefer polite physicians, says U.S. report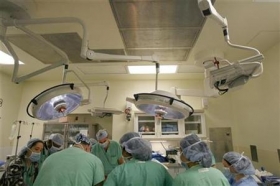 By Gene Emery
BOSTON (Reuters) - Doctors should try a new type of prescription -- being a little more polite -- if they want to connect with their patients, a U.S. psychiatrist suggested on Wednesday.
"Patients may care less about whether their doctors are reflective and empathic than whether they are respectful and attentive," said Dr. Michael Kahn of Beth Israel Deaconess Medical Center and Harvard Medical School in Boston.
"I believe that medical education and postgraduate training should pay more emphasis on this aspect of the doctor-patient relationship -- what I would call 'etiquette-based medicine,"' Kahn said in a telephone interview.
Some U.S. medical schools are trying to train would-be doctors to have more empathy with their patients, rather than never smiling, or staring at a computer screen.
Writing in the New England Journal of Medicine, Kahn said the simplest way to do that may be to show good manners, such as asking permission before entering a patient's room.
"Feeling follows behavior, rather than the other way around," he said.
"If you take a busy doctor and have them just sit down with a patient, shake their hand, and look them in the eye, that alone creates a connection, rather than approaching it by saying, 'Well, gee, I want to somehow, in some nebulous way, feel connected with a patient,' but then not really knowing what the means or how to go about it. These things will help the doctor feel more tuned-in to the patient."
Kahn said he experienced the calming benefits of good manners when he was treated by a European doctor with Old World etiquette.
Etiquette-based medicine, he said, "would put professionalism and patient satisfaction at the center of the clinical encounter and bring back some of the elements of ritual that have always been an important part of the healing profession."
(Editing by Maggie Fox and Mohammad Zargham)