How to recycle clothes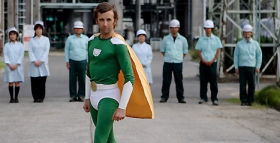 One of my sisters, Kate, was spring cleaning a couple of closets recently and after sorting through things she wound up donating most of her clothes to the local church.
But there was a small pile of clothes that looked ripe for the dump. Karmically, she didn't want to deposit these pre-loved clothes into the trash bin. So she did what sisters do — asked the older one for advice. I came across a great suggestion from organicgardens.com where we discovered that cotton and wool "rags" and old leather gloves could be composted.
Both Good Will and The Salvation Army are willing to take on even the threadbare threads — they send them to "rag sorters" who make very good use of the material.
Thought I'd pass along a few other tips for recycling your beloved threads
Textiles make up about 4 percent of the weight and 8 percent of the volume of all municipal solid waste in the US — more info @ Institute for Self Reliance and @ Council for Textile Recycling.
How do you keep your used garments out of the landfill?