Chile volcanic eruption at critical stage: Expert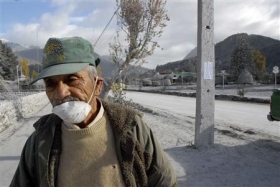 By Antonio de la Jara
PUERTO MONTT, Chile (Reuters) - A towering plume of ash from an erupting volcano in Chile's remote Patagonia could collapse back down to devastate the surrounding area, a leading expert warned on Friday.
Luis Lara, a geologist and volcano expert with the government's geology and mining agency Sernageomin, says his models show the vast column of ash, which has soared 7.5 miles
into the air, at a critical stage.
A sudden collapse would shroud vast areas with hot gas, ash and molten rock, killing anything in its way.
Authorities have evacuated thousands of people from the immediate vicinity of Chaiten volcano, 760 miles south of the capital Santiago, and are forcibly removing people within a 30 mile radius.
Chaiten began erupting eight days ago for the first time in thousands of years.
"We are at a critical point of this phase given the characteristics (of the eruption) have remained the same for several days," Lara said.
"The volcano is now at its limit and one possibility is that the column could collapse quickly, generating flows of pyroclastic material down its ravines," he added. "But there are also other scenarios, such as the energy of the eruption being released more gradually."
In a worst case scenario, the flows of ash and fiery material could reach the fjord Chaiten sits on, sending a series of small waves fanning out toward settlements up to 125 miles away across the water.
Lara says the volcano could rumble on for years. He suggested the town of Chaiten, 6 miles from the volcano and now deserted, should be moved.
"In an ideal world, I would move the town somewhere else more protected," Lara said. He would not risk living there.
The cloud has also caked towns on the Argentine side of the border with ash. Satellite images show a white stripe smeared across the continent.
However ash that had drifted as far as Buenos Aires dissipated on Friday, and some airlines which canceled flights overnight resumed service.
Chile is home to 2,000 volcanoes, 500 of which experts say are potentially active. Around 60 have erupted over the past 450 years.
(With additional reporting by Karina Grazina in Buenos Aires, Writing by Simon Gardner, editing by Alan Elsner)