HSBC rebel urges independent adviser for U.S. arm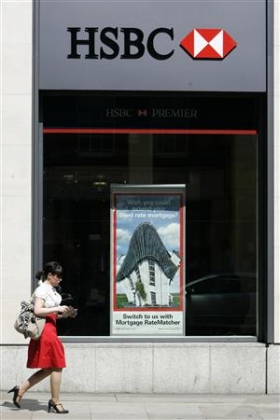 LONDON (Reuters) - HSBC <HSBA.L> is underestimating problems at its troubled U.S. consumer finance arm, a rebel shareholder said on Monday and called on the bank to appoint an independent financial advisor to consider options for the unit.
Activist hedge fund investor Knight Vinke said if HSBC had accounted for its sub-prime assets as conservatively as other banks, its losses would stand at about $50 billion. It estimated HSBC's cumulative writedown stands at $25 billion after losses announced earlier in the day.
HSBC, Europe's biggest bank, said it would take a $3.2 billion charge on bad debts at HSBC Finance for the first quarter and wrote down $2.6 billion on the value of risky assets. Strong growth in Asia helped it to beat last year's Q1 profit, it said in a trading update.
Knight Vinke, which has said it owns a stake of about 0.3 percent in HSBC, has previously called on the bank to consider ring-fencing or selling HSBC Finance and asked for "a clear and unequivocal answer from the board" on whether it would appoint independent advisers to consider the options for HSBC Finance.
HSBC's finance director, Douglas Flint, said in a statement: "Unfortunately, Knight Vinke's comments are based on misunderstanding or error. HSBC applies exactly the same accounting rules as every other institution.
"Customer loans are accounted for differently to trading assets. We would not be permitted by current rules to account for our loan book in the way Knight Vinke suggests we should."
Earlier this year HSBC rejected suggestions it should walk away from the HSBC Finance business as "unthinkable and irresponsible."
(Reporting by Steve Slater, editing by Will Waterman)