Iran president to offer proposals in nuclear row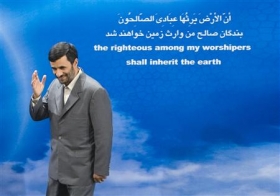 By Parisa Hafezi
TEHRAN (Reuters) - Iran will soon put forward new proposals to resolve its dispute with the West over its nuclear program, President Mahmoud Ahmadinejad said on Tuesday.
But Ahmadinejad also made clear the Islamic Republic would not bow to U.N. demands and halt sensitive nuclear work Western powers suspect is aimed at making bombs.
Iran, the world's fourth-largest oil producer, says its nuclear activities are a peaceful drive to generate electricity so that it can export more of its oil and gas.
"There are various concerns in the world which big powers have no solutions for ... but Iran has solutions," Ahmadinejad told a news conference in Tehran.
"We have prepared a package which will soon be offered," he said, without giving details.
Six world powers agreed in London on May 2 to offer a revised package of economic and other incentives to Iran to coax it to halt uranium enrichment, a process which can make fuel for power plants or material for warheads.
Tehran has repeatedly ruled out any suspension of its nuclear program, which has prompted three rounds of U.N. sanctions since 2006, and says it has its own ideas on how to help defuse the row.
White House spokeswoman said on Tuesday world powers were finalizing the package of incentives.
"We continue to reiterate our call to Iran to suspend enrichment and come to the table .... Our incentives package ... is the one with merit," Dana Perino told reporters in Washington.
But Ahmadinejad said no incentives offered by the West would persuade Iran to abandon its right to develop its nuclear program.
"What does incentives mean?" he said. "Iran is a big power and wants nothing more than its legal right to nuclear technology. Nothing can persuade us to abandon our right."
"FINALISING THE PACKAGE"
Asked whether Iran would accept any proposal to temporarily freeze expanding its nuclear activities during negotiations with world powers, Ahmadinejad said: "Let us receive (the package) and see what the proposals are."
He added: "What is certain is that the Iranian nation is serious on its rights and will not negotiate on its rights."
Diplomats said world powers in the coming days will offer the revised package of trade and other benefits to Iran if it suspends its nuclear enrichment.
But the United States, which is involved with major powers in the negotiations, has made clear it will not join the mission to present the offer, which is expected to be given to Iranian Foreign Minister Manouchehr Mottaki.
Diplomats, who refuse to release details of the package until it has been seen by the Iranians, said it was broadly based on a 2006 offer but it was more specific in terms of civilian nuclear cooperation with Tehran.
The June 2006 offer also included wider trade in civil aircraft, energy, high technology and agriculture, if Tehran suspended enrichment and negotiated with the six powers, including the United States.
(Reporting by Parisa hafezi, Editing by Samia Nakhoul)