Americans curb gasoline use amid high prices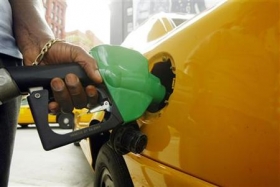 NEW YORK (Reuters) - Americans are tapping the brakes on their road travel heading into the peak summer driving season because of a record rise in gasoline prices.
Retail gasoline demand in the world's biggest fuel consuming nation has slipped about 1 percent so far this year, MasterCard Advisors said in a report.
And the nation's gasoline stations reported a 0.4 percent decline in April sales, according to data released by the Commerce Department.
"We've never seen prices at this level. It really seems that it's had a material impact on consumers' driving patterns," said Michael McNamara, vice president of MasterCard Advisors.
Average retail gasoline prices have surged nearly 25 percent in a year to over $3.60 per gallon, tracing a searing rally in the cost of crude oil.
The U.S. Energy Information Administration said last month it expects American gasoline usage to shrink during the coming summer vacation season for first time since 1991 as prices in parts of the country breach $4 a gallon.
MasterCard's weekly report on gasoline purchases showed the slowdown may be intensifying, with motorists last week pumping an average of 9.091 million barrels per day, down 7 percent from year-ago levels.
Decreasing gasoline demand is unusual for season, when consumption typically begins ramping up ahead of summer.
(Reporting by Rebekah Kebede and Richard Valdmanis; Editing by John Picinich)