Republicans respond to election "wake-up call"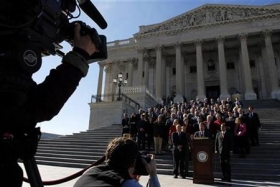 By Thomas Ferraro
WASHINGTON (Reuters) - Republican leaders in the House of Representatives, stung by a third election defeat in as many months, scrambled on Wednesday to regain the confidence of voters as well as some of their own members.
Gathered on the steps of the Capitol building, they showcased a package of largely old proposals to reach out to families, including ones to cut the rising price of gas, make health care more affordable and crack down on street gangs.
"Our members are concerned but they are ready for the message we are rolling out this week," said Roy Blunt of Missouri, the Republican whip in the House.
Democrats mocked a new Republican slogan -- "Change you deserve" -- by noting the phrase is used to market an antidepressant.
"Democrats, not drugs, is what the American people need," said Steny Hoyer of Maryland, the majority leader in the House.
With opinion polls showing voters favor Democrats on a host of issues, the party is expected to further swell its ranks in Congress in November, when Americans vote for a new president as well as all 435 seats in the House and a third of the 100-member Senate.
Last week, former House Speaker Newt Gingrich warned fellow Republicans that they must "chart a bold course of real change or they are going to suffer decisive losses" in November.
Democrats picked up another House seat on Tuesday when they won a conservative district in Mississippi previously held by Republicans.
"It was another wake-up call," House Republican leader John Boehner said. "We have to show Americans that we can ... fix the problems that they deal with every day."
Last week, in a special election to fill another vacant House seat, Democrats prevailed in a Louisiana district that Republicans had held for years.
In March, Democrats won a special election to fill the seat vacated by former House Speaker Dennis Hastert, an Illinois Republican who decided to retire early rather than serve out his two-year term in the new Democrat-controlled House.
EXPANDED MAJORITY
With the election on Tuesday of Travis Childers in Mississippi, Democrats will expand their House majority, controlling it 236 to 199.
Vice President Dick Cheney campaigned against Childers and Republican ads tried to link him to Democratic presidential front-runner Barack Obama, viewed by many Mississippians as too liberal.
Rep. Chris Van Hollen of Maryland, who heads the Democratic congressional campaign committee, said the Republican strategy failed.
"What happened in Mississippi yesterday was a day of reckoning for the failed policies of the Bush administration," Van Hollen said.
House Republicans showed some distance from President George W. Bush on Wednesday by helping Democrats pass a farm bill that the unpopular president has threatened to veto.
Hoyer opened his weekly news conference by saying: "I am pleased to be the majority leader of an ever-expanding majority."
David Wasserman, who tracks House races for the nonpartisan Cook Political Report, warned against reading too much into the three special elections won by Democrats.
"Things are so in flux," Wasserman said.
Nonetheless, he estimated Democrats will gain from five to 15 House seats in November's election.
(Additional reporting by Richard Cowan and Donna Smith; Editing by John O'Callaghan)