Rough economy cuts into pay for U.S. CEOs: study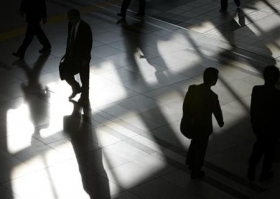 By Martha Graybow
NEW YORK (Reuters) - CEO compensation at the biggest U.S. corporations dropped sharply last year, reflecting in part the rough business conditions at top-tier banks and other large financial firms, a study has found.
The study, released Thursday by consulting firm Mercer, a unit of Marsh & McLennan Cos Inc <MMC.N>, is one of the most comprehensive reports to date analyzing chief executive pay data for companies' most recently completed fiscal year.
The study looked at pay data in annual proxy filings for 350 companies of varying sizes and industries in the Fortune 1000.
CEO pay is always a contentious topic, but it has received increased attention from shareholders amid the subprime mortgage meltdown and has been discussed on the U.S. presidential campaign trail, with Democrats Barack Obama and Hillary Clinton and Republican John McCain all taking aim at well-paid CEOs.
The study found that the CEOs of 50 large U.S. companies -- companies with median annual revenue of $66.2 billion -- took the sharpest cut in total direct compensation in the last fiscal year on a percentage basis, down 15.8 percent from the previous year.
This group of companies includes many big financial firms such as American International Group <AIG.N>, Citigroup <C.N> and Merrill Lynch & Co Inc <MER.N> that have been hurt by woes in the mortgage and credit markets.
"Companies are correlating their payouts more closely to performance," said Diane Doubleday, global leader of Mercer's executive compensation group in San Francisco. "I think we will see that play out in 2008 again."
Median total direct compensation for CEOs in this group was nearly $14 million in the fiscal year covered by the proxy, Mercer said.
The pay tally includes an executive's base salary, annual cash bonus and the expected value of long-term incentives such as stock options and performance shares granted in the fiscal year covered by the proxy. The tally does not include things such as the value of CEO perks or retirement benefits.
For the largest companies covered by the study, long-term incentive grant values were down 18.9 percent, contributing to the pay declines, Mercer said. Long-term incentives accounted for about two-thirds of the CEOs' total pay packages.
Compensation for CEOs of companies with median revenue of $16.2 billion was little changed in the most recently completed fiscal year. These CEOs took in median total direct annual compensation of about $9.4 million, Mercer said.
At companies with median revenue of $3.2 billion, CEOs had median total direct compensation of $4.7 million for the most recent year, down 4.6 percent from the prior year, according to the study.
(Reporting by Martha Graybow; editing by John Wallace)