Wal-Mart moves forward with new Marketside stores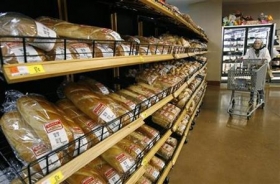 NEW YORK (Reuters) - Wal-Mart Stores Inc <WMT.N>is now hiring store managers to work at Marketside, new smaller format stores the world's largest retailer is preparing to open in Arizona.
Marketside is described as "the neighborhood market for busy people with a taste for fresh and delicious food."
Last year, Wal-Mart's British supermarket rival Tesco <TSCO.L> entered the U.S marketplace, opening Fresh & Easy Neighborhood Markets stores in California, Arizona and Nevada. Tesco is seeking to woo U.S. shoppers with smaller convenience stores that emphasize ready-to-eat meals and fresh produce.
Wal-Mart has launched www.workformarketside.com, a website that currently lists eight job openings for Marketside managers and assistant managers in four Arizona cities.
The site says Marketside will "simplify the daily challenge of creating an enjoyable meal by providing inspiring choices, while also offering everyday favorites at great prices in an easy-to-shop environment."
Wal-Mart, whose No. 2 British supermarket chain Asda competes with No. 1 Tesco in the United Kingdom, has long been expected to open a new, smaller store concept that would rival Tesco's stores in the States.
Wal-Mart is now working on launching the convenience store-sized markets in four cities southeast of Phoenix.
Store application plans call for the stores to occupy roughly 15,000 square feet. That is less than half the average size of Wal-Mart's Neighborhood Market grocery stores, and a small fraction of the size of its Supercenters, which combine grocery stores with general merchandise and can be more than three times the size of a U.S. football field.
A story in the Financial Times said on Friday that Marketside locations will prepare and serve food, and include a kitchen, food counters and seating for up to nine people.
Wal-Mart spokesman Nick Agarwal said the retailer tests lots of different formats.
"We'll no doubt announce more in due course but not at this stage," he said of the retailer's plans for the new stores.
(Reporting by Aarthi Sivaraman and Nicole Maestri, editing by Will Waterman and Steve Orlofsky)