Every $10 oil rise ups Air Force costs $610 million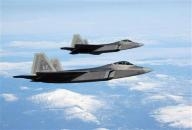 WASHINGTON (Reuters) - The U.S. Air Force operates the "world's largest airline" and every $10-per-barrel increase in crude oil boosts its annual operating costs by $610 million, Air Force Secretary Michael Wynne said on Thursday.
The Air Force's bill for aviation fuel was about $6 billion in fiscal 2007, Wynne told a defense industry group. He declined to predict what the total would be for 2008.
U.S. crude oil futures soared to a record above $135 a barrel on Wednesday, more than double the price of one year ago.
"We are very concerned about the instability in oil prices because it wreaks havoc on how we manage our flying-hour program across the Air Force, just as it is wreaking havoc on the pricing statistics for an airline," Wynne said.
The jump in fuel prices has hammered the U.S. commercial airline industry, forcing seven small carriers to file for bankruptcy or to close their doors in the past five months.
The Air Force spent just over $6 billion on fuel costs in fiscal 2006, more than double its costs in fiscal 2001, before the start of the war in Afghanistan.
The Air Force, which has 19,000 pilots operating 5,700 aircraft and also flies unmanned aircrafts, has launched an ambitious drive to reduce its carbon dioxide output and reduce its reliance on foreign oil.
The House of Representatives adopted an amendment on Thursday evening as part of a $601.4 billion defense spending bill that would require the Pentagon to include greenhouse gas emissions as one of many criteria for buying new weapons.
Rep. Jay Inslee, a Washington Democrat, said his amendment would help promote greater energy efficiency by the Pentagon, the No. 1 U.S. energy consumer, and promote national security by reducing U.S. reliance on foreign oil.
Wynne, asked about the amendment before it was adopted, said he welcomed any moves by Congress to address energy efficiency, but said the Pentagon was already moving aggressively on such issues.
Wynne said the Air Force aimed to certify by 2011 that its entire fleet of bombers, fighters, transport planes and other aircraft could fly on a domestically produced 50-50 blend of synthetic and petroleum-based fuel.
Some Air Force bases are already using alternative energy sources for power. Nellis Air Force Base near Las Vegas opened the largest U.S. solar-electric panel farm in December -- a move that saves about $1 million a year.
Another big concern for both the Air Force and commercial airlines is variations in types of fuel, which makes planning difficult, he said.
The Air Force is studying whether to switch from JP-8, a jet fuel, to a different type, Jet A, a move that could save it $30 million a year and reduce the number of different jet fuels it uses, Wynne said.
The House also passed a second Inslee amendment that urges the Pentagon to increase the efficiency of its computers and cut operating costs with software by automatically scaling the performance of platform processors, based on demand.
(Reporting by Andrea Shalal-Esa; Editing by Christian Wiessner and Braden Reddall)