Vattenfall to build carbon capture test plant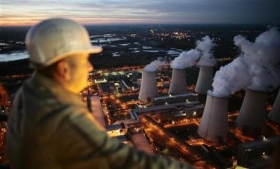 STOCKHOLM (Reuters) - Swedish state-owned utility Vattenfall said on Friday it will build a demonstration plant for carbon capture and storage (CCS) at a 500 megawatt block of its Jaenschwalde facility in Germany.
The demonstration plant, to be built at what is part of a conventional lignite power plant, will require an investment of about 1 billion euros ($1.57 billion) and be in full operation no later than 2015, Vattenfall said in a statement.
The company is due to open the world's first plant for CO2 separation in Schwarze Pumpe, Germany this summer after an investment of about 70 million euros, it added.
Vattenfall said it was cooperating with Gaz de France Production and Exploration GmbH in testing a technology for storing the captured CO2 in a depleted natural gas field in the Altmark, Germany.
(Reporting by Niklas Pollard)