Airbus says some site sales may take years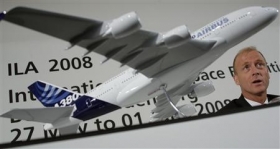 BERLIN (Reuters) - European planemaker Airbus may have to wait years for economic conditions to improve before it can sell some plants that it wants to divest to reduce costs, the company's chief executive said on Wednesday.
Talks between Airbus and potential buyers of its factories in France and Germany recently collapsed, though it is still aiming to sell two sites in Filton, UK, and Laupheim, Germany. Airbus blamed dollar weakness and the financial crisis.
"We therefore now have an interim solution and we will see how things are looking in a few years when conditions are better again," Tom Enders told a news conference at the ILA Berlin Air Show. The sales should then be successful, he added.
The CEO said Airbus would make a decision on the sale of Laupheim very soon. He added that he was not talking about weeks and months.
Airbus has embarked on a cost saving program, dubbed Power8, aimed at saving 2.1 billion euros annually and cutting 10,000 jobs by 2010, as it suffers from delays to its A380 superjumbo program and dollar weakness against the euro. Parent EADS <EAD.PA> plans to announce more cost-saving measures by the end of July.
Enders also underlined on Wednesday that Airbus had not made an official application for state support to build its A350 mid-size model to take on rival Boeing's <BA.N> 787 Dreamliner.
At a news conference at the air show on Tuesday, representatives from the governments of the four nations that produce Airbus planes -- France, Germany, Spain, UK -- said they agreed in principle to support the A350 after Airbus asked them about financial aid.
But the governments said they wanted to see research, development and production stay substantially in Europe.
Enders and the head of EADS, Louis Gallois, both renewed calls on Tuesday for a "level playing field" with arch-rival Boeing in terms of state aid.
Both companies, which control the market for passenger jets over 100 seats, accuse the other of taking illegal subsidies and have taken their cases to the World Trade Organization.
(Reporting by Kerstin Doerr; Writing by James Regan; Editing by Paul Bolding)