Asia's biggest colorless diamond sold for $6.2 mln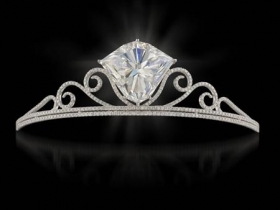 HONG KONG (Reuters) - A 101.27-carat diamond the size of a squash ball and the largest colorless stone to be auctioned in Asia, has fetched $6.2 million at a Christie's sale in Hong Kong on Wednesday.
The gem, which is internally flawless but rated VVS1 (very very slightly imperfect 1st degree) for clarity was sold after patchy bidding for HK$48.5 million including the buyer's premium, a relatively low per-carat price and at the low-end of its pre-sale estimate.
The diamond is the largest colorless diamond to appear at auction in 18 years and one of only three colorless diamonds of over 100-carats ever to be auctioned, Christie's said. It was also the biggest colorless diamond ever to be sold in Asia.
While rare polished diamonds achieved all-time highs per carat at sales in Geneva late last year, a much-hyped 72.22 carat "D" flawless white diamond failed to sell at a Sotheby's Hong Kong auction in April, suggesting demand for top stones may be waning due to a weakening world economy.
The 101-carat "shield-shape" stone was cut from a 460-carat hunk of rough crystal and mounted on a tiara, rather than a necklace or pendant given its extraordinary thickness.
Naming rights for the gem will be granted to the new owner, whom Christie's would only reveal as a private buyer.
($1=7.804 Hong Kong Dollar)
(Reporting by Amrita Sheokand, Writing by James Pomfret; Editing by Sanjeev Miglani)