Earthquake rocks Iceland damaging buildings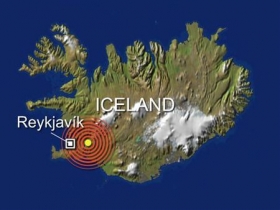 By Kristin Arna Bragadottir
SELFOSS, Iceland (Reuters) - A strong earthquake of 6.1 magnitude hit Iceland on Thursday 31 miles southeast of the capital Reykjavik, damaging buildings in nearby Selfoss and sending terrified residents running into the streets.
Local police said no injuries had been reported.
The U.S. Geological Survey said the quake struck at 3:46 p.m. (11:46 p.m. EDT) at a shallow 6.2 miles beneath the earth's surface.
A Reuters witness said there was severe damage to buildings in Selfoss, a southwestern town near the epicenter of the quake, and that dozens of panicking people had poured into the streets.
Residents in the capital also felt the impact.
"I am in Reykjavik ... everything was shaking. The glass in the windows shook and everybody was just really scared," said Audbjorg Olafsdottir, an economist.
"In Selfoss, where it happened, I heard everything is broken and people are standing outside in the street and everybody is terrified."
Olafsdottir said her sister in Selfoss had told her the quake had ruined her house.
Iceland, a volcanic island in the North Atlantic, has a population of about 300,000, and four-fifths of its rocky surface is uninhabited. It was first settled by Vikings from Norway in the ninth century A.D.
A fault line in the earth's crust runs across the island, which is known for its geysers, volcanoes and glaciers.
(Reporting by via Stockholm newsroom; additional reporting Sarah Edmonds; editing by Tim Pearce)