Former coach Graham guilty of lying to agents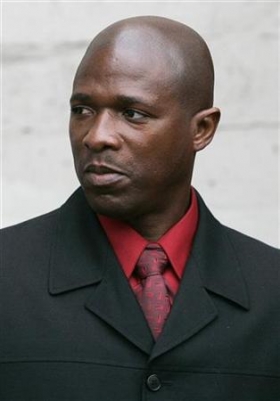 By Clare Baldwin
SAN FRANCISCO (Reuters) - Acclaimed athletics coach Trevor Graham was convicted on Thursday of one count of lying to federal agents investigating the BALCO doping scandal.
A federal jury found that Graham lied over his relationship with Angel Heredia, a Mexican athlete who testified he sold performance-enhancing drugs to Graham and his athletes.
The jury, however, could not reach a verdict on two other counts against Graham, the former coach of elite Olympic sprinters Marion Jones, Tim Montgomery and Justin Gatlin.
Those charges also involved Graham's relationship with Heredia. Prosecutors have until June 20 to decide if they will re-try the 44-year-old Jamaican-born Graham on the charges.
Defense attorney William Keane said he would likely file a motion for an acquittal of Graham's conviction.
He said the jury "obviously had problems with the government's case," including "the allegation that Mr. Graham instigated and facilitated the use by a few of his athletes of performance-enhancing drugs supplied by Angel Heredia."
Graham could receive a maximum five-year prison sentence and a $250,000 fine on the conviction. He is scheduled to be sentenced September 5.
The coach triggered the biggest steroid scandal in sports by anonymously sending the U.S. Anti-Doping Agency a syringe with a then-undetectable steroid that was traced back to the Bay Area Laboratory Co-Operative (BALCO).
San Francisco-area company BALCO and its founder Victor Conte have been at the center of the scandal, which has affected athletics, baseball and American football.
PHONE RECORDS
Graham told agents investigating BALCO in 2004 he had not provided drugs or referred athletes to Heredia, he had never met Heredia in person, and had last spoken to him on the telephone in 1997.
But phone records released during the trial appeared to show the two had often talked by telephone since that time.
The jury could not reach a unanimous verdict on two counts. Court officials said the jury voted 10-2 for conviction on the count that Graham provided drugs or referred athletes to Heredia, and 11-1 to convict on the charge that Graham had never met the Mexican.
Graham's case is only the second in the scandal to reach a trial by jury. Former Olympic cyclist Tammy Thomas was convicted in April of perjury and obstruction of justice.
The scandal has led to prison time for BALCO founder Conte and others, including Jones.
Former San Francisco Giants slugger Barry Bonds, baseball's all-time home run leader, also has been indicted in connection with the scandal.
He has been charged with 14 counts of making false declarations to a grand jury and one count of obstruction of justice.
Bonds, currently out of baseball but seeking to get back into the game, has denied knowingly taking performance-enhancing drugs.
(Reporting by Clare Baldwin; Editing by Justin Palmer)