Fatal Utah coal mine collapse covered 50 acres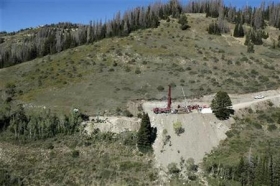 LOS ANGELES (Reuters) - The 2007 underground collapse of a Utah coal mine, which resulted in the deaths of six miners and three rescuers, covered 50 acres, or the area of 40 American football fields, according to a report released on Monday by seismologists.
According to the University of Utah Seismograph Stations, new calculations show the estimated size of the collapse, which registered as a 3.9 magnitude earthquake, is about four times larger than the initial estimate made shortly after the August 2007 disaster.
"The collapse probably happened within just a few seconds and was not a long, drawn-out affair," said Jim Pechmann, a University of Utah seismologist and lead author of the study.
"There would have been no time for anybody to get out of the way. It would have happened too fast for that."
The collapse at the Crandall Canyon mine in a remote part of central Utah sparked intense media coverage as rescuers below ground and from above to reach the six trapped miners. Three rescuers were killed and six were injured 10 days after the collapse and the search was called off after 25 days. The mine has ceased operation.
Seismologists insisted from the day of the collapse that the magnitude-3.9 seismic event was the mine collapse itself. The mine's owner argued it was a natural quake that triggered the collapse.
The report has been submitted to the journal Seismological Research Letters and to federal Mine Safety and Health Administration investigators.
The researchers said they released the study before it was published because of "numerous requests for information, which is a matter of public interest," while MSHA informed victims' families in the last few weeks.
(Writing by Iain Blair; editing by Mary Milliken and Cynthia Osterman)