European Union Poised to Increase Recycling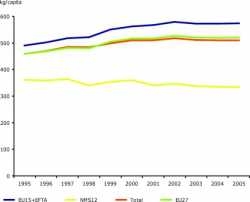 The European Union is currently debating waste management targets that could significantly increase recycling rates throughout Europe.
Legislators on the European Parliament's Environment Committee overwhelmingly supported reforms earlier this year that would halt the steady rise in the region's garbage. By 2012, waste production would have to stabilize at 2009 levels, the committee recommended.
To reduce the amount of trash deposited into landfills, EU member states would have to increase recycling rates across all sectors. The policy proposal is a reaction to the growing burden of municipal waste across Europe, although countries that are new to the union may struggle to meet the challenge.
The Environment Committee called for recycling rates to more than double by 2020. Households would have to reuse or recycle at least 50 percent of their waste. Construction, demolition, manufacturing, and industry would be required to meet a 70 percent target. Parliament will vote on the recycling targets on June 16.
The ambitious recycling rates were quickly rejected by the Council of the European Union, however, which called the targets unattainable due to "recycling imbalances" among member states. Instead, the council recommends recycling targets that are about 5 percent more lenient for each sector.
If an agreement is reached, it appears likely that overall recycling rates will have to increase. According to the Parliament's Environment Committee, 49 percent of EU municipal waste goes to landfills, 18 percent is incinerated, and 27 percent is recycled or composted. The amount of municipal waste is expected to grow 25 percent between 2005 and 2020.
The European Commission first proposed that the 1975 Waste Framework Directive undergo an overhaul in 2005. "We have come a very long way from the original Commission draft, which contained no recycling targets," said Caroline Jackson, a European Parliament member who has led the waste management reforms, in a prepared statement. "The alternative to the package now on the table may not be a better package, but no package at all."
Recycling rates across the European Union vary considerably. Western European nations, lead by the Netherlands and Denmark, send less than 10 percent of their waste to landfills, whereas many eastern European and island nations send more than 90 percent. Rates vary within countries as well. Italy, for instance, sends half its waste to landfills overall, but it is currently facing a European Commission lawsuit for its failure to dispose of uncollected trash in the city of Naples.
If the recycling targets go into effect, between 279 and 303 million tons of greenhouse gas emissions would be reduced, according to a study by consulting firm Prognos AG and the University of Dortmund. A ban on discarding biodegradable waste into landfills would yield the higher carbon reduction.
Ben Block is a staff writer with the Worldwatch Institute. He can be reached at bblock@worldwatch.org.