Vehicle idling adds to greenhouse gas emissions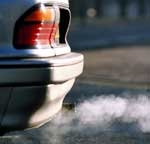 It's not the biggest contributor to global warming. But unlike the length of our commutes or the fuel efficiency of our SUVs, it's something we can change, right now.
We can simply stop idling: Turn off the engine while waiting to pick up the kids from school. Park and enter McDonald's to order lunch.
Idling wastes about 4 percent of a car's gasoline, experts say. So eliminating idling would cut a car's greenhouse gas emissions - carbon dioxide and other byproducts scientists believe cause climate change - by the same amount.
"Any amounts you can cut are important," said Michael Short, program director of the Cleveland-based Clean Air Conservancy. "That's just a complete waste. It's energy generation you're not even using."
Of course, as long as we have stoplights and traffic jams, we can't eradicate idling completely. (Unless, of course, you own a hybrid that shuts off its engine when stopped.)
But environmental advocates, local governments and industry associations are all working to curb the habit.
What would that mean for Cuyahoga County, which a recent Purdue University study named the fourth-worst county in the country for carbon dioxide emissions?
Eliminating idling would cut about 196,000 metric tons of carbon dioxide from passenger cars and trucks alone, calculated from Environmental Protection Agency estimates and Ohio Bureau of Motor Vehicles statistics. Add in commercial vehicles and tractor-trailers, often left idling during deliveries or at truck stops overnight, and we'd reduce by an additional 64,000 metric tons.
The reduction probably wouldn't change our ranking in the emissions list.
The list is based primarily on industrial polluters, said David Greene, an expert at Oak Ridge National Laboratory for Transportation Analysis in Tennessee.