Despite Economic Dip, Organic Food Sales Soar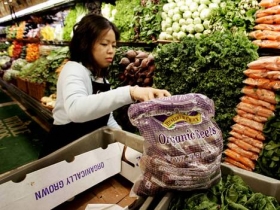 If there's a recession, organic food doesn't know it.
Even in a down economy, green consumers have shown a willingness to pay more for organic, natural or environmentally-friendly products, per a study released last week by the Natural Marketing Institute and The Nielsen Co. (which is parent to Brandweek).
The Lifestyles of Health and Sustainability (or LOHAS) consumers are top spenders in many consumer packaged goods categories.
"They are less price sensitive, and also have more fully integrated LOHAS products into their lifestyle and are less likely to go back," said Gwynne Rogers, business director at NMI, Harleysville, Pa.
About 20% of Americans make up this segment of buyers. These highly desirable consumers tend to spend 10% more in warehouse clubs as well as buy more cereal, jelly, pasta, produce, soup and ready-to-serve prepared food than "non-green" consumers.
Products labeled organic represented $4.4 billion in sales for the 52 weeks ended April 19 (excluding Wal-Mart), per The Nielsen Company. Mintel, Chicago, forecasts sales will grow to $6.8 billion by 2012.
Small brands are seeing big growth. Ian's Natural Food's grows 45% annually, per the company. Nature's Path Foods, meanwhile, grew 30% in the first half of this year and will launch 15 new products by year's end.
"It's much easier for [organic products] to get onto shelves today than it was 10 years ago," said John Foraker, CEO of Annie's, in Napa, California. "As big CPG companies give organic credibility, that's made it easier." But once inside the battle for shelf space can be fierce. Annie's natural macaroni and cheese, for example, is going head to head with Kraft's organic offering.
"There is some brand loyalty [among organic foods] but not as much as you would hope," said Pam Dietz, director at soy milk manufacturer Vita Soy in Ayer, Mass.
To compete, smaller brands have beefed up in-store promotions. In one program, Nature's Path is co-branding with Organic Valley and Stoneyfield Farm yogurt to include cross-promotional $1 coupons to push joint purchases of organic yogurt and cereal.
Annie's and Vita Soy are plucking the cause-conscious heart strings of shoppers with promos that raise funds for school gardens and breast cancer research, respectively. VitaSoy's pink-colored containers court retailers by allowing them to choose the local breast cancer program they prefer to donate to.
Nielsen and NMI point out there are also still numerous categories that have yet to be exploited. Its report shows organic noncarbonated drinks, baking mixes, frozen desserts and syrups are "opportunities for CPG manufacturers and retailers seeking to capture LOHAS consumers wallet."