Intel spins off solar energy technology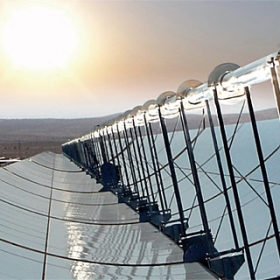 Intel Corp, the world's biggest maker of semiconductors, said on Monday it is leading a $50 million investment round in a new start-up and spinning off solar technology that it had developed.
Intel said the solar assets it is divesting will be part of an independent company SpectraWatt Inc, and it is joined in the funding by Cogentrix Energy LLC, a unit of Goldman Sachs Group Inc, PCG Clean Energy and Technology Fund, and Solon AG. It did not detail its investment.
SpectraWatt will make photovoltaic cells and sell them to solar module makers, Intel said. In addition, the start-up will focus on improving current solar cell manufacturing to cut the cost of photovoltaic energy generation.
SpectraWatt aims to break ground on its manufacturing and advanced technology development plant in Oregon in the second half of 2008, with first shipments of its products expected by the middle of 2009.
Solar cells are used in converting sunlight to electricity, and the end-market for solar technology in 2007 was about $30 billion, up 50 percent from 2006, according to data from market research firm Photon Consulting.
Intel said it expects solar industry growth of 30 percent to 40 percent to continue in coming years as the economics of solar, which is still about twice that of currently delivered retail electricity on a per-kilowatt basis, starts to approach that of traditional electricity-generation technologies.
Intel's funding is coming from Intel Capital, Intel's venture capital arm, which has a long history of funding start-ups to spur the adoption of technology and help fuel demand for its products. (Reporting by Duncan Martell; editing by Jeffrey Benkoe)