Geobulb: A LED Bulb That Replaces A 60W Bulb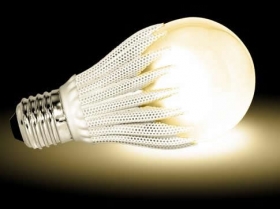 The Geobulb is a 8 watt LED light that replaces a 60 watt incandescent bulb. It generates 800 lumens of light to be exact — either warm white light or cool white. This bulb has a sleeker design than some of the LED lights I've seen check out that aesthetically pleasing heat sink.
The Geobulb lasts 40 times longer than conventional incandescent bulbs and 10 times longer than compact fluorescent. LED bulbs like this have the advantage of being able to be turned off and on quickly, and being able to withstand cold temperatures. It sells for $120 which, for an enthusiast like myself, is a reasonable price for a ultrarefficient light that will last 10 years or more. It's available from C. Crane and Computer Gear.