How Green is that Product?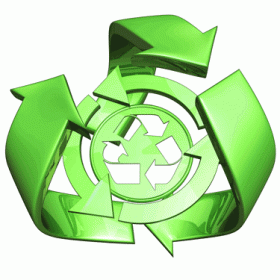 Stroll around a typical home-goods store and you might feel as though you're walking outdoors  everything is turning green. Over the past year, more mainstream companies have jumped on the green bandwagon, unveiling "natural" cleaners, recycled products and packaging, sustainably made furniture, and housewares aimed at a growing market niche: the green consumer.
Wal-Mart, for instance, is stocking shelves with organic cotton towels and Clorox's latest cleaning line, Green Works.
Walk into Crate & Barrel, and you'll probably notice chairs made of sustainable wood, teak dining collections, and a shopping environment with a low-energy lighting system.
Companies are realizing that going green - or at least sprinkling some green into their mix of conventional products - is good business. Indeed, American consumers are expected to double their spending on eco-friendly products and services in the next year to an estimated $500 billion, according to Landor Associates.
"I find myself weighing a green purchase versus a regular purchase, and there were many times in the past when price would have made the decision for me," says Leah Ingram of New Hope, Pa., whose blog, The Lean Green Family, chronicles her family's transition to a greener lifestyle. "Now that I'm more aware of [the environment], I'm willing to spend a little more."
Yet it's unclear how much of an impact all this green buying will actually have on the environment. Purchasing anything, regardless of how green it is, adds something to a person's carbon footprint. And concern is growing over "greenwashing" - or misleading claims made by companies about the environmental benefits of their products.
"There's so much greenwashing going on. It can be frustrating to find out which companies are really green," says Amy Todisco, owner of GreenLivingNow.com, an online natural products store in Huntington, Vt. "When you find out that [some brands] are not doing what we thought they were doing, it's very disheartening."
Ms. Todisco has been researching products like laundry detergent, cleaning supplies, and personal-care items for more than 14 years. She's found that many that are marketed as "natural" still use synthetic ingredients.
One of the challenges for consumers is that there are no uniform standards for "green," says Celia Lehrman, deputy home editor of Consumer Reports.
As a result, products are appearing on store shelves in shades of green. One company may remove or substitute a few ingredients and call the result ecofriendly when, in fact, its product still contains traces of harmful elements. Another company may take an approach in which everything from materials to packaging to distribution is designed to be as ecofriendly as possible.
While this is the ideal, it can get complicated and expensive in a global economy, says Ed Stafford, an associate professor of marketing at Utah State University who has studied green marketing...
Full Story: http://features.csmonitor.com/environment/2008/06/16/how-...