Freeze lifted on solar applications in West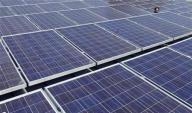 By Georgina Coolidge
WASHINGTON (Reuters) - The Bureau of Land Management on Wednesday said it reversed an earlier decision freezing solar project applications in six Western states and would accept new applications.
"We heard the concerns expressed...about waiting to consider new applications and we are taking action," BLM Director James Caswell said in a statement.
The BLM placed a moratorium on new applications while it prepared to conduct a 22-month study looking at the environmental, economic and social impacts of solar development on public land in Arizona, California, Colorado, Nevada, New Mexico and Utah.
"We're encouraged that the BLM has decided to reverse the moratorium," Rhone Resch, president of the Solar Energy Industry Association, told Reuters following the BLM's announcement. "This is only the first step. We now need to get BLM to process these applications."
Resch said the BLM decision to freeze applications before any land had been leased for solar development was "in complete opposition to how they treat the oil and gas industry."
The government agency announced the freeze a month ago.
Before the freeze went into effect at the end of May, the government had received approximately 130 applications for development on more than 1 million acres of land, said Linda Resseguie, the BLM's project manager for the study. Those applications have the potential to generate 70 billion watts of electricity, enough to power about 20 million homes in the United States, she said.
An agency of the U.S. Interior Department, the BLM controls 258 million acres of land, or about 13 percent of the total surface land in the country, primarily in Western states. The desert land that makes up a large portion of the six states is the ideal terrain for solar energy development.
(Reporting by Georgina Coolidge, editing by Leslie Gevirtz)