2009 Mercury Mariner Hybrid – Road Test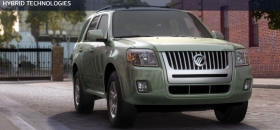 Prius schmius. Sometimes, you just require a larger vehicle. When the need arises, don't hesitate to check into the new '09 Mercury Mariner Hybrid. The small SUV, slightly prettier sister to Ford's Escape Hybrid, is likely coming soon to a dealership near you, with a redesigned powertrain to boot.
There's little differentiation between the traditional Mariner and the Mariner Hybrid… in fact, from the exterior, you'll notice only a gleaming, chrome badge on the rear and near each front tire that reads "Hybrid." Don't doubt, however, that your fellow Whole Foods shoppers will notice. Painted in Light Ice Blue metallic, my test vehicle caught many an eye, hybrid or not.
Inside, eco folks can drool over the nickel-metal-hydride battery tucked beneath the cargo area, and drivers who are merely seeking best city mileage can admire the luxe seating, layout and gadgetry. (more)
Coupled with a super-smooth ride and about 34 miles per gallon while running errands around town, the Mariner Hybrid is a capable hauler that certainly outshines some of the gas-guzzling competition. Most importantly, it's produced under Mercury's Kansas City Plant carbon-offset program, funding U.S. renewable clean energy projects by the same amount released during the manufacturing of each hybrid—a claim no other manufacturer can make.
Whether you're headed to the farmer's market on a Saturday afternoon or the nearby national park for the week, Mariner Hybrid will get you there in clean, green style.
Test model priced at: $33,835. Base price: $27,195.  If you meet the requirements, you may qualify for a federal income tax credit of $3,000 on Mariner Hybrid FWD (front-wheel drive) and $2200 on the 4WD (four-wheel drive.) As their website notes — that's a credit, not a deduction. Your tax obligation may be reduced by the award given.