Antarctic ice shelf 'hanging by thread': European scientists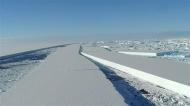 PARIS (AFP) — New evidence has emerged that a large plate of floating ice shelf attached to Antarctica is breaking up, in a troubling sign of global warming, the European Space Agency (ESA) said on Thursday.
Images taken by its Envisat remote-sensing satellite show that Wilkins Ice Shelf is "hanging by its last thread" to Charcot Island, one of the plate's key anchors to the Antarctic peninsula, ESA said in a press release.
"Since the connection to the island... helps stabilise the ice shelf, it is likely the breakup of the bridge will put the remainder of the ice shelf at risk," it said.
Wilkins Ice Shelf had been stable for most of the last century, covering around 16,000 square kilometres (6,000 square miles), or about the size of Northern Ireland, before it began to retreat in the 1990s.
Since then several large areas have broken away, and two big breakoffs this year left only a narrow ice bridge about 2.7 kilometres (1.7 miles) wide to connect the shelf to Charcot and nearby Latady Island.
Continue reading at Agence France-Presse.