China says air clearing for Games despite hazy skies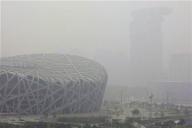 BEIJING (Reuters) - China's efforts to clear the skies over its polluted capital are having an effect, officials said on Friday, insisting that Beijing's air would be safe for Olympic athletes despite persistent smog over the city.
Beijing authorities have taken cars off the road and opened new subway lines in the past week, in addition to halting some construction and suspending factory production, in a last-ditch effort to ensure clear skies when the Games open on August 8.
"For the effects of the measures we have taken to be increasingly felt, we will have to make continued efforts," Du Shaozhong, of the Beijing Environmental Protection Bureau, told a news conference.
"Given the geographical location of Beijing, it is rather difficult to improve air quality and cut emissions," he said.
The city's chronic pollution, a source of respiratory illness, has been one of the biggest worries for Games organizers, who have had to deflect international criticism over air quality and who have struggled to contain the environmental effects of China's breakneck economic growth.
Athletes have also expressed concern, with Ethiopia's Haile Gebrselassie saying he will take part in the 10,000m race, but not the marathon, in Beijing due to worries about air quality, and others saying pollution levels could affect performance.
Du conceded that Beijing's air quality on Friday was below par, meeting only level 3 on China's five-point scale air pollution index.
But he said that the overall trend was improving, with a 20 percent reduction in carbon monoxide, nitrogen dioxide and particulate matter -- all pollutants related to vehicle emissions -- since the same period last year.
According to China's Air Pollution Index, 22 days this month have been "blue-sky days", Du said.
But the index is not internationally recognized, does not calculate the cumulative effect of different pollutants and omits several of them.
Experts say that decades of heavy industrial pollution, much of which wafts into Beijing from far-flung provinces, will be difficult to clear with stop-gap measures, especially in the hot and humid summer months.
"In the last few days there has not been significant rainfall or wind and the weather conditions in the last few days were not conducive to the diffusion of air-borne pollutants," Du said, explaining the yellow-grey haze over Beijing.
But he said it was not necessary for athletes to bring face masks.
"If they insist on doing so, it will only end up an extra item in their luggage and make their luggage heavier," Du said.