Beijing says "sauna" haze will not last over Games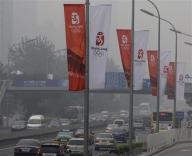 BEIJING (Reuters) - Beijing authorities said sauna-like weather trapping hazy pollution in the Olympic host city will not last throughout the Games, state media reported on Tuesday, as organizers consider more pollution controls.
The Chinese capital's skies remained grey on Tuesday morning, but a breeze overnight had scattered some of the sultry haze that has Olympic organizers worried the city's restrictions on vehicles and industry have not done enough to staunch pollution.
Officials have raised the prospect of more pollution controls, in addition to ones now keeping nearly half of Beijing's 3.3 million cars off the roads and shutting many factories and plants near the capital.
But Guo Wenli, the director of the Beijing Meteorological Bureau's climate centre, told the overseas edition of the People's Daily that historic weather patterns showed that the "sauna" weather conditions of July will not last throughout the Games starting on August 8.
"During the Beijing Olympics, the weather won't be the worst compared to the same period historically, and there won't occur the kind of sustained 'sauna fog' of late," Guo told the paper.
The Beijing Meteorological Bureau (http://www.bjmb.gov.cn) forecast a light breeze and possible showers on Tuesday, conditions that it said should help lighten the haze.
The city's chronic pollution, a sometimes acrid mix of construction dust, vehicle exhaust and factory and power plant fumes, has been one of the biggest worries for Games organizers.
Many athletes have delayed arriving in Beijing until the last minute to avoid bad air, and the International Olympic Committee said it may reschedule endurance events such as the marathon to prevent health risks to athletes if pollution is bad.
City pollution monitors said air quality on Monday was Grade II, making it officially a "blue sky day" despite the grey haze, with the main pollutant being particulate matter.
But officials have also flagged additional pollution controls if the air remains too dirty.
Cars in Beijing are already banned from roads on alternate days depending on their license plate number -- odd or even -- and many government cars have been ordered off the roads. Taxis, buses and Olympic vehicles are exempt. Around Beijing, heavily polluting factories, such as steel plants, have also been closed.
Hong Kong, host to the Games' equestrian events, was hit by its worst air pollution ever recorded on Monday amid soaring temperatures, but arriving Canadian team leader Michael Gallagher said he had no concerns.
"We have noticed the haze," he told the South China Morning Post. "But it's not black like it is in Beijing."
(Reporting by Chris Buckley and Nick Macfie in Hong Kong; Editing by Ken Wills and Alex Richardson)