World Bank Struggles to Prioritize Sustainability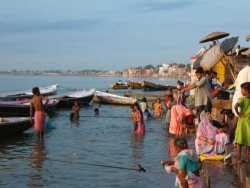 World Bank investment projects fail to dedicate sufficient attention to long-term sustainability, an internal review said last week.
Although the world's largest multinational financer has heightened its focus on mitigating environmental degradation and climate change in recent years, the institution places uneven emphasis on the economic benefits of environmental preservation, the assessment revealed.
The World Bank considers itself among the world's leading advocates for environmental awareness, especially after pursuing a succession of proactive, "do good" projects starting in the 1980s. Yet the assessment, authored by the Independent Evaluation Group, said the environmental impact of many investments is still not a priority. "The Bank needs to improve monitoring, evaluation, and reporting of environmental aspects and results of lending operations at both the project and portfolio levels," the report said.
The evaluation focused on case studies from nine countries that receive nearly half the institution's environmental investments. Throughout these regions, the Bank has been successful in helping countries set their environmental priorities, but it often struggles to address these issues adequately through its lending. For instance, the Bank says the most serious environmental problems in India are water quality, land degradation, and air quality; however, investing in projects related to these challenges is "not a significant priority," the report noted.
The evaluation also compared the success rate of projects across regions and across environmental issues, such as biodiversity or water resource management, over the time period from 1990 to 2007. The region with the highest rating of satisfactory projects was Europe and Central Asia, at 85 percent. Sub-Saharan Africa ranked the lowest, at 67 percent. Land and watershed management operations are more likely to be completed with a satisfactory rating (about 80 percent), while efforts to strengthen environmental management capacity through technical assistance are more likely to fail (65 percent success rate).
Despite these satisfactory ratings, the evaluation concluded that a lack of accountability prevents an accurate assessment. "Even though the World Bank applies environmental due diligence to all of its investment projects, it lacks an aggregate monitoring and reporting system that would allow it to more systematically assess the environmental aspects and results of the projects it supports," the report noted.
The International Finance Corporation (IFC), the bank's private lending division, adopted a policy in 2006 to orient all of its projects in the developing world toward social and environmental sustainability. However, when impoverished nations seek to develop, these priorities are often in conflict, especially with regard to energy projects.
The struggle between poverty alleviation and emissions mitigation is evident in Bank project financing. While the World Bank has increased its lending for renewable energy and carbon sequestration projects overall, the IFC continues to prioritize coal and oil. IFC investments for fossil fuel projects total $2.2 billion for 2008, a 165-percent increase over 2007, according to a Bank Information Center (BIC) analysis. Two coal-fired power plants, in India and the Philippines, account for one-third of these greenhouse gas-emitting projects.
A major obstacle to assessing the Bank's overall record on sustainability is confusion over the number of projects it classifies as environmental. Environmentally related projects are on the rise, but a complex coding system has allowed the Bank "to overstate the actual volume of resources going directly for environmental improvement," the evaluation said.
The World Bank classifies 2,401 projects, which receive a total of $59 billion, as environment and natural resource management. But only an estimated 680 projects, or $18.2 billion of investments, are focused at least 80 percent on environmental improvement, such as wastewater treatment, the report notes. "A very troubling finding, quite frankly, is that the World Bank does not really know and does not have a way to account for how much money goes into the environment," said Cheryl Gray, director for the evaluation group's World Bank division, at a Bank-organized panel discussion of the evaluation.
In response, Laura Tuck, the Bank's director for sustainable development in Europe and Central Asia, said many investments that could be classified as environmental are now merged with other projects. For instance, infrastructure projects now include mitigation of greenhouse gas emissions into the analysis for how roads should be constructed, the Bank says.
Olav Kjorven, director of the United Nations Development Programme's bureau for development policy, expressed the harshest criticism at the panel discussion. "The [World Bank] Group has failed to truly prioritize environmental sustainability," he said. "We're all busy doing good work on all these issues, but it's not commensurate to the challenge and it doesn't bring out the best in all of us."
Ben Block is a staff writer with the Worldwatch Institute. He can be reached at bblock@worldwatch.org.