An Inexpensive Electric Bike Conversion Kit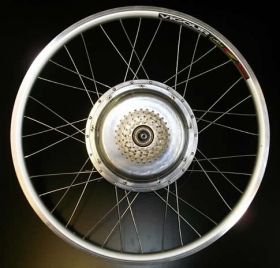 Sales of electric bikes have spun into high gear this year — some merchants like Amazon are reporting a 6000% increase this summer from last year. This is good news, because, for short trips, the efficiency and convenience of electric bikes is hard to beat.
Here are some statistics that still amaze me: 40% of all trips are made within two miles of the home, and 50% of workers commute five miles or less to work.
I recently heard about an inexpensive electric bike conversion kit that appears to be of good quality. It's offered by a family-run company called AmpedBikes.
You will have to provide your own batteries — here's a FAQ page with some suggestions for finding them (scroll to the bottom).