Japan to offer incentives on clean diesel cars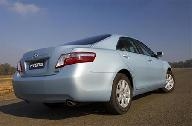 TOKYO (Reuters) - Japan is looking to introduce incentives for consumers buying clean diesel cars starting next fiscal year in a bid to reduce carbon dioxide emissions, a government official said on Thursday.
Details including the credit amount will be firmed up by the end of the year with an eye to implementing the incentives from next April, an official at the Ministry of Economy, Trade and Industry (METI) said.
Subject to the incentives will be diesel-engine cars that clear tighter regulations on nitrogen oxide (NOx) and particulate matter (PM) emissions to be introduced in Japan in October 2009.
Nissan Motor Co will become the first automaker to launch a diesel car that meets the criteria next month, when it rolls out the diesel X-Trail sport utility vehicle.
Among other Japanese automakers, Honda Motor Co is planning a clean diesel car next year, while Mitsubishi Motors Corp and Subaru-maker Fuji Heavy Industries Ltd have also promised a diesel car for Japan.
Daimler AG's Mercedes-Benz is currently the only brand selling diesel passenger cars in Japan. The E-Class diesel sedan, which costs more than 8 million yen ($72,970), would not clear Japan's next emissions standards.
Diesel cars are around 20-30 percent more fuel-efficient than comparable gasoline cars and emit less carbon dioxide, linked to global warming. They are expected to carry a price premium of 300,000 yen to 400,000 yen ($2,700-$3,600) over gasoline cars, the METI official said, part of which will be subsidized.
The new regulations will limit emissions of PM, a component of soot, to around a third of current levels and equal to the standard for gasoline cars. The limit on NOx emissions will be nearly halved to 0.08 grams per km, compared with 0.05 grams for gasoline.
The Japanese government offered consumer incentives on hybrid cars for nine years from 1998 to help promote the fuel-efficient, gasoline-electric vehicles when they were first launched.
($1=109.63 Yen)