South Asia floods kill 33, displaces thousands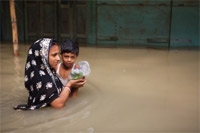 BHUBANESWAR, India (Reuters) - Rescue workers evacuated some 200,000 people after flooding by one of India's largest rivers killed 16 people at the weekend, while overflowing rivers inundated parts of Nepal and killed 17 people, officials said on Sunday.
Large parts of India's coastal Orissa state were inundated after authorities were forced to open dozens of sluice gates of a dam on the Mahanadi river following heavy rain in the catchment area.
Monsoon rains and flooded rivers have brought huge devastation across South Asia this year, killing more than 1200 people, mostly in India and Nepal.
"At least 200,000 people were evacuated from their homes and moved to safer places," G.V. Venugopala Sarma, a revenue official in Orissa, told Reuters. He said more people were being moved.
TV stations showed people fleeing the floods with whatever they could carry. Some took shelter on roads and inside school buildings.
Most of the deaths were caused by drowning.
The Mahanadi river had breached its banks in several places and floodwaters had swept away highways in some areas.
In Nepal, overflowing rivers originating from the Himalayas washed away homes and inundated dozens of villages in the west, killing at least 17 people and displacing thousands.
Local media reports put the overnight death toll in Kailali, Kanchanpur and Doti districts in southwest Nepal at more than 24 and at least 40 others were missing.
"We have reports still coming in from remote areas and the toll could rise later," Thir Bahadur G.C., a home ministry official said.
Most of those killed were either drowned or crushed under mudslides. Many people had taken shelter on rooftops and in trees waiting for rescuers.
The Kosi river, which burst a dam in Nepal, has heaped massive suffering on millions of people in downstream Bihar state in India. Water levels were now receding there.
But millions were now living on embankments, roads and in overcrowded camps in filthy conditions, exposing them to infections and water-borne diseases, aid agencies say.
In Orissa, the government was using helicopters to drop food and water packets.
Authorities warned of more floods in the state's coastal belt once more water is released from the Hirakud dam on the Mahanadi.
The floods in Bihar, the worst there in 50 years, destroyed 100,000 ha (250,000 acres) of farmlands. Rice crop in Orissa had also been damaged.
The monsoon usually hits India on June 1 and retreats in September, and is key to irrigating some 60 percent of farmland. But it leaves in its wake massive destruction, killing hundreds of people, destroying homes, crops, roads and bridges every year.
(Additional reporting by Gopal Sharma in Nepal; Writing by Krittivas Mukherjee; Editing by David Fox)