How Green Is Your College?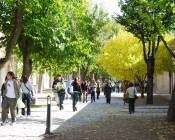 Last week, the Sustainable Endowments Institute released its 2009 Green Report Card. As GreenBiz reports, it compiles the green and not-so-green aspects of 300 colleges and universities through the United States and Canada. The Report Card was designed to identify those schools that are leading by example through their commitment to sustainability initiatives on campus.
Schools were graded across categories including administration engagement, green building, food and recycling programs, transportation, and climate change policy. While no school earned an outright 4.0, there were many with A- grades that received the distinction of Campus Sustainability Leader by excelling in at least three of the categories listed above.
The Sustainable Endowments Institute is a project by the Rockefeller Philanthropy Advisors to assess the 300 universities in the US and Canada with the largest endowments. This represents more than $380 billion in endowment assets, or more than 90 percent of all university endowments.
As energy and transportation costs rise, student activism increases, and awareness grows around the effects of climate change, "Many [schools] are taking pride in greener campuses and sustainability-savvy investments," saysMark Orlowski, Executive Director of the Sustainable Endowments Institute. "We had 290 of 300 schools respond to at least one of the three Report Card surveys."
Some key findings and trends are:
- Two out of three schools (66%) evaluated in both years improved their overall grade between 2008 and 2009.
- Increasing use of local food is helping to drive significant grade improvement. The number of schools reporting that they buy at least some food from local farms/producers rose from 70% to 91%.
- Alternative-fuel vehicles, as well as car-sharing and bicycle-sharing programs, are becoming more prevalent. The percentage of schools whose vehicle fleets include hybrid, electric, or biodiesel vehicles increased from 42% to 74%.
- More than one-third of schools earned an overall grade of "B-"or better (38%, or 114 schools).
- Schools are weakest in Shareholder Engagement and Endowment Transparency categories.
43 indicators were used to assess the grades of the schools, including publicly available information and student surveys administered across the categories above. To simplify grading, schools earned letter grades across nine categories based upon number scores they received across the 43 indicators. For a complete breakdown of the methodology, click here.
The top-scoring 15 schools from 2009 are:
Oberlin College; Oberlin, OHÂ 
University of New Hampshire; Durham, NHÂ 
University of British Columbia; Vancouver, BCÂ 
Columbia University; New York, NYÂ 
Dickinson College; Carlisle, PAÂ 
Harvard University; Cambridge, MA
Middlebury College; Middlebury, VTÂ 
University of Washington; Seattle, WA
Brown University; Providence, RIÂ 
Carleton College; Northfield, MN
University of Colorado; Boulder, CO
Dartmouth College; Hanover, NHÂ 
University of Pennsylvania; Philadelphia, PAÂ 
Stanford University; Stanford, CAÂ 
University of Vermont; Burlington, VT
This humble writer was excited to see his alma mater, UC Berkeley, receive an overall B rating, excelling with A's in several categories. He is, however, slightly disappointed that his cross-Bay rival scored higher…
To check out the full report card, click here.