Internet auction sees 256,000 Kyoto offsets sold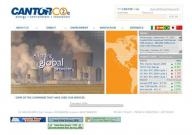 LONDON (Reuters) - A total of 255,592 Kyoto offsets were sold via online auction on Thursday, brokers and auction organizers CantorCO2e said.
The offsets, issued by the United Nations and known as CERs, were sold for 19.05 euros ($26.57) each to four anonymous buyers, CantorCO2e said.
"Demand for the CERs outstripped supply by a significant margin," CantorCO2e said in a statement, adding the auction attracted bidders from the United States, Japan, and nine European countries.
Benchmark CERs trading on the European Climate Exchange priced at 19.45 euros a metric ton on Thursday afternoon.
The CERs represent greenhouse gas reductions made through three biomass projects owned by Chile's Arauco, the largest forestry company in Latin America, and registered under the Kyoto Protocol's Clean Development Mechanism (CDM).
The CERs will be delivered to the buyers via Switzerland's national emissions registry, the only European registry connected to the Kyoto registry so far.
(Reporting by Michael Szabo; editing by Christopher Johnson)