California ports clean up polluting trucks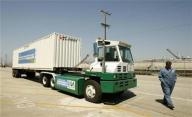 LOS ANGELES (Reuters) - The ports of Los Angeles and Long Beach, the busiest U.S. cargo complex, launched a landmark clean-air program on Wednesday banning some 2,000 older trucks blamed for half the pollution spewed by the ports' diesel haulers.
The port complex ranks as the biggest air polluter in Southern California -- more than the region's cars -- and heavy-duty trucks operating there generate more than a third of its overall diesel emissions, port officials say.
Despite weeks of court wrangling and worries that cargo deliveries would be slowed, at least 15,000 newer-model trucks -- more than enough to keep terminal traffic flowing smoothly -- registered on time to comply with the new requirements at each port, port authorities said.
The two adjacent shipping centers, which together account for 40 percent of U.S. container imports, have banned all pre-1989 model-year diesel trucks as part of larger plans to reduce air pollutants from the ports by nearly half in the next five years.
Approval of those plans were crucial to paving the way for port expansions long stalled over concerns about pollution-linked illnesses in nearby communities.
"Cleaner air is on the way," Mayor Antonio Villaraigosa proclaimed at a harbor-side news conference kicking off the clean trucks program. "Ports across the world have their eyes on us as a model for the future because today the cornerstone of the world's most comprehensive plan to clean up a major port hits the road."
The nearly 17,000 trucks regularly serving the ports produce more smog and soot than all 6 million cars in the region and cause 1,200 premature deaths annually, according to the California Air Resources Board.
Asthma rates among children living in the vicinity are double the national average, while dock workers and truck drivers face significantly higher risks of lung and throat cancer, various studies have shown.
The ban on pre-1989 trucks immediately excludes more than 2,000 vehicles -- roughly 14 percent of the ports' combined fleet of diesel haulers -- that account for about half of the port area's total truck pollution, port officials say.
Supporters say scrapping those 2,000-plus trucks will remove more than 350 tons of harmful emissions.
"The ports will see a 50 percent reduction (in truck emissions) overnight," said Jessica Lass, a spokeswoman for the Natural Resources Defense Council, which helped formulate the clean-air plans after suing the ports to block expansion until public health issues were addressed.
In 2012 the ban will be extended to all big rigs built before 2007, reducing truck emissions 80 percent from current levels at the ports.
The ports are offering subsidies to help truckers and trucking companies buy or lease newer, cleaner rigs -- assistance that will be paid for in large part by new fees charged to cargo owners.
Trucking companies and independent drivers also can receive a $5,000 cash incentive for each pre-1989 rig they turn over to be destroyed and resold as scrap.
The trucking industry supports the clean-air effort but has mounted a legal challenge to other aspects of the Los Angeles port program that require trucks to be operated by company concessions which hire their drivers as employees.
Most truckers serving the ports were independent owner-operators, many of whom will find it difficult to meet new concession regulations and financial requirements alone.
(Editing by Anthony Boadle)