Wall Street seen adding to global rout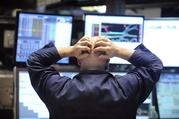 NEW YORK (AP) -- Wall Street headed to another huge decline Friday, extending a global sell-off on concerns that even low interest rates won't help end the worsening credit crisis. Dow Jones industrials futures plunged 400 points ahead of the opening bell in New York.
Frozen credit markets and a loss of confidence in the world's financial system have caused the Dow to drop 21 percent in just 10 trading days. The blue chip index tumbled 678 points Thursday, and is heading to its worst weekly point drop, and one of its biggest weekly percentage drops, since being created 112 years ago.
Going into Friday's session, losses for the year add up to a staggering $8.3 trillion, according to preliminary figures measured by the Dow Jones Wilshire 5000 Composite Index, which tracks 5,000 U.S.-based companies representing almost all stocks traded in the U.S.
"Momentum is running against the market and you don't want to get hit by a train," said Jack Ablin, chief investment officer at Harris Private Bank. "This is now about market psychology. There's extreme fear and panic out there."
A stream of selling forced exchanges in Austria, Russia and Indonesia to suspend trading, and those that remained opened were hammered. The rout in Australian markets caused traders there to call it "Black Friday."
Article Continues:Â http://news.wired.com/dynamic/stories/W/WALL_STREET?SITE=WIRE&SECTION=HOME&TEMPLATE=DEFAULT&CTIME=2008-10-10-07-36-48