Climate laws to include planes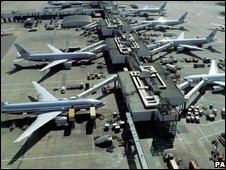 The government has agreed to include aviation and shipping in an ambitious push to cut greenhouse gas emissions.
Ministers said they would give "due regard" to projected emissions from the two industries when setting budgets for carbon reduction in the future.
More than 50 Labour MPs pressed for the sectors to be included in the Climate Change Bill, which sets a target to cut carbon emissions by 80% by 2050.
Environmental campaigners have welcomed the government's change of heart.
The government agreed to redraft its bill, which was given a third reading by 463 votes to three - a majority of 460 - in the Commons.
It accepted an amendment requiring ministers to take into account projected emissions from the sectors when setting future budgets that will cap emissions.
Environment minister Joan Ruddock said that action to reduce emissions from commercial aviation and shipping was "vital" to tackle the threat of climate change.
"In setting or advising on budgets due regard should be given to emissions from international aviation and shipping," she said.
But she stressed the main way of tackling such emissions would be through international agreements such as the EU emissions trading scheme and a successor to the Kyoto climate change protocol.
Article Continues:Â http://news.bbc.co.uk/2/hi/uk_news/politics/7693875.stm