Study Leaves Decision On Asian Oyster to States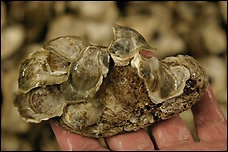 A U.S. government study of the risks and rewards involved in seeding the Chesapeake Bay with an Asian oyster has found, after four years and $15 million, that the plan could have both -- punting the controversial question back to officials in Maryland and Virginia.
Officials at the U.S. Army Corps of Engineerspresented that conclusion yesterday morning, 16 months after their evaluation of the oyster's potential impact had been due.
They found that the Asian oyster might thrive in the bay, filtering its water and providing watermen with something new to catch. It might also multiply rapidly enough to crowd out the bay's native oyster species, a Chesapeake symbol for centuries.
In the end, the Corps of Engineers decided it could not recommend what the states should do.
"We didn't feel like . . . we wanted to say: 'This is the preferred alternative. What do you think?' " said Col. Dionysios Anninos, commander of the Corps' Norfolk District.
Article Continues:Â http://www.washingtonpost.com/wp-dyn/content/article/2008/10/14/AR2008101402770.html